Mumbai to Ladakh an unforgettable adventure,
Ladakh is a tourist destination that has captured the attention of many global travellers.
Their distinct topography, culture, and cuisine are the reasons behind this fascination. Ladakh, a union territory, lies between the Siachen Glacier and the Karakoram mountain range, with several towns and villages.
One of the most sought-after places in this region is Leh, which is famous for its natural beauty, Buddhist stupas, and cultural heritage.
 For those travelling from Mumbai, Leh Ladakh tour packages are easily accessible throughout the year. However, choosing the right package is crucial to fully exploring these places. It's recommended to opt for a reliable travel company that provides a comprehensive itinerary with some flexibility for customization if needed.
If you're a fan of uncharted territories, a trip from Mumbai to Leh Ladakh would be like a dream come true. Check out this blog for more information to plan your trip.
The best time of the year to Visit Leh Ladakh
The month of April and May
For a family vacation from Mumbai to Leh Ladakh, the best time to visit Leh Ladakh is during the summer months of April and May due to the pleasant weather conditions. However, it's essential to note that many roads are closed during this period, and it's advisable to fly to Leh. The famous Pangong Tso and Tso Morir lakes, which freeze during the winter, start to thaw during this season, offering a stunning view of their crystal-clear waters.
The month of June to September
The period from June to September is perfect for those who wish to escape Mumbai's scorching heat. During this season, all roadways are open, making it possible to plan a road trip to Leh Ladakh from Mumbai. As these destinations are gaining popularity, this is also the peak time when you'll find numerous travellers exploring the region in sizable groups.
It's essential to note that the cost of your Leh Ladakh trip from Mumbai during these months may be slightly higher than in the off-season, and thus, it's recommended to book your travel package in advance.
The Months of October to December
The experience of a vacation from Mumbai to Leh Ladakh during this season is incomparable, as the entire region is in full bloom. You can relish the snowfall, participate in festivals, and engage with the locals. Most travellers recommend the months between October and December as the best time to visit Leh Ladakh if you conduct an online search.
The month of January to March
Suppose you adore the winter season to an extent that sub-zero temperatures seem ideal for a vacation. In that case, you can schedule a trip to Leh Ladakh during January, February, or March. Adventurers eager to explore the mountainous terrain can embark on the Chadar Trek, which is feasible only when the Zanskar River freezes entirely! This is a once-in-a-lifetime experience that may entice you to revisit Leh Ladakh from Mumbai.
"Embark on a journey of a lifetime in Ladakh with a tailor-made itinerary just for you – start planning your adventure today!" Get In Touch for a custom itinerary
How to Reach Leh Ladakh From Mumbai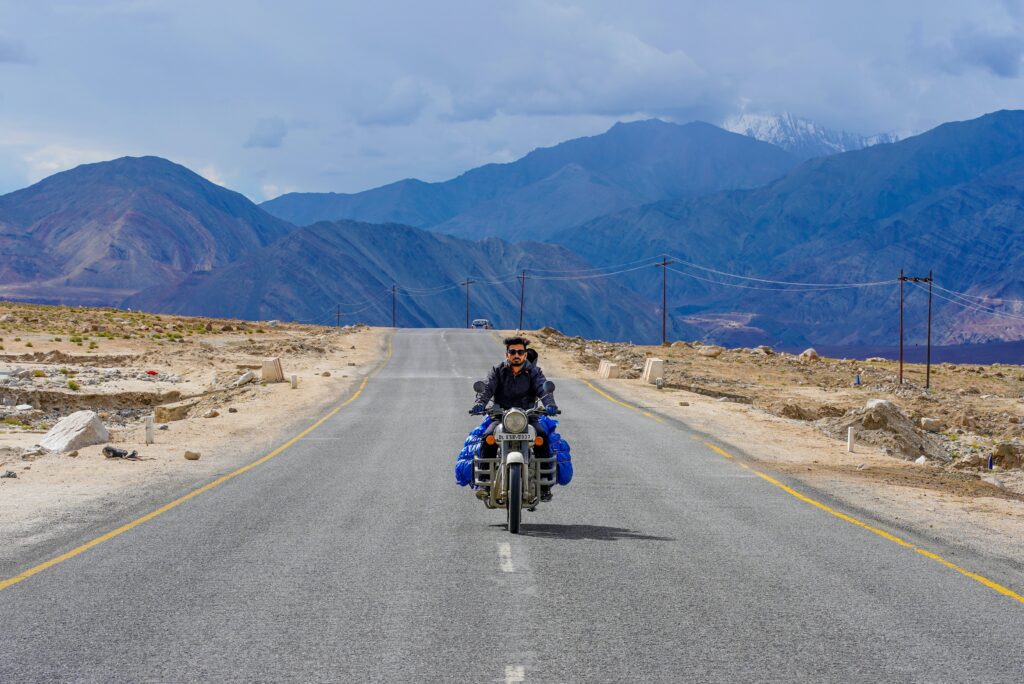 When planning a vacation in Leh Ladakh, tourists often wonder whether to take a flight from Mumbai or embark on an adventurous road trip. Here is comprehensive information on how to reach Leh Ladakh from Mumbai:

Ladakh Travel by Air 
The swiftest mode of transportation to Leh Ladakh from Mumbai is by air. A non-stop flight from Chhatrapati Shivaji Maharaj International Airport to Kushok Bakula Rimpochee Airport in Leh takes approximately 2.15 hours, allowing you to save a significant amount of time. If you book an early morning flight from Mumbai to Leh, Ladakh, you can save even more time.
Ladakh Travel by Train
As there are no direct train routes available from Mumbai to Ladakh, travellers have to book a ticket from Chhatrapati Shivaji Terminus to Jammu Tawi Railway Station. This journey takes approximately 1.5 days without any delays. Alternatively, Mumbaikars can book a train ticket from New Delhi to Jammu Tawi Railway Station to reduce their travel time. In either case, a private taxi will have to be hired from the railway station to reach Leh.
Ladakh Travel by Road
Embarking on a road trip from Mumbai to Leh Ladakh can be one of the most unforgettable experiences of your life, even though it takes at least four days to complete the journey. The distance between Mumbai and Leh Ladakh by road is 2339 km, and the places you will see on the way are sure to leave a lasting impression on you. Many solo travellers prefer a Mumbai to Ladakh bike trip, starting from Rohtang Pass in Manali. Renting or using a personal bike to ride up to this breathtaking treasure of Kashmir is an experience like no other! You can fly from Mumbai to Kullu and then plan a road trip to Ladakh.
With this knowledge in mind, why wait any longer? Book your travel package to Leh Ladakh from Mumbai today!